INSIDE THE MIND OF AN IRON ICON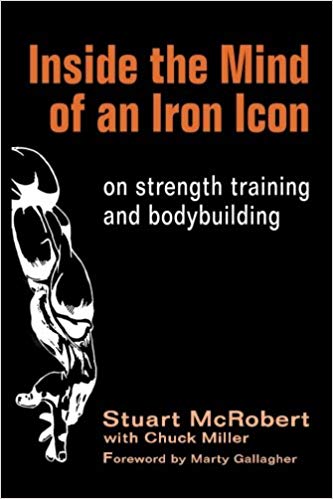 Imagine . . . build much more muscle and strength, from much less time in the gym.
What if you were one of the most training-savvy people in your town or city? Imagine how good that would make you feel.
And imagine the power you'd have to improve your physique, and to help others improve theirs.
But don't just imagine this. Make it a reality!
INSIDE THE MIND OF AN IRON ICON features the first ever comprehensive interview of Stuart, by Chuck Miller, a student of McRobert's who has won national powerlifting championships.
The lessons in this fitness book aren't based on just Stuart's journey. They are a fusion of the acquired wisdom of generations of drug-free bodybuilders and strength trainees.
Here's just a sample of what you'll learn from this book's 200 pages, to build a bigger leaner body:
1. Superlative strength training programs, and how to customize them to suit you.
2. The definitive scoop on the exercises you should be doing for maximum strength and development.
3. The single best way to instantly improve your exercise technique (but it's not slowing your rep speed).
4. The full revelation about the maxim "to build bigger muscles, build strength."
5. The most important weight training advice you haven't heard.
6. Stuart's own training over the decades, and the many lessons for you to learn.
7. How to manage factors outside the gym, including nutrition, to maximize progress in the gym.
8. How even "hard gainers" can become really good gainers.
9. Chuck's own 30+ years of training and competition, and the lessons to learn.
10. Nuanced differences in the most effective training strategies for beginner, intermediate, and advanced trainees.
11. The importance of training for a lifetime, and how to do it.
12. A foreword from renowned strength-training author, Marty Gallagher.
13. Historical perspective from Chuck on how not only hard gainers, but also world champions from the early days of powerlifting to the present, have used brief, demanding workouts to fuel progress in a timeless approach to effective strength training.
Whether you're starting strength training, or are a training veteran, this book is for you.
If you're new to Stuart's books, you're in for a major wake-up call that can tremendously accelerate your progress in building muscle and strength.
If you've already read one or more of Stuart's books, you're in for the most updated and polished refresher course that will rejuvenate your progress, AND you're also in for a great deal of additional information and guidance that's not been previously published.
Buy this book NOW, to build much more muscle and strength, from much less time in the gym.
Visit here to see many reviews of this book, and to order your copy.